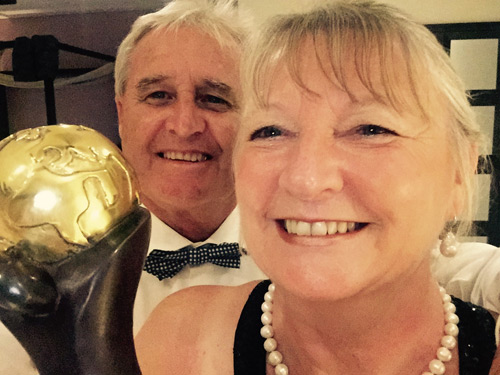 As a child growing up in the North of England I dreamt of living on a tropical Island. Chris a lifelong surfer, also loved the islands and together we dreamed of creating an island paradise.
We had been visiting Samoa since 1996 and it held a special place in our hearts. After an extended stay in 2003 we decided we should make our dream a reality.
After two years of planning, overcoming many obstacles along the way and with a list of must haves firmly imprinted in our minds, we searched for our piece of paradise.
There are beautiful beaches everywhere in Samoa, however it was important to us that we were on our favorite South East coastline, had good road access and within short proximity to the main road, had a pristine Lagoon, a wonderful beach and the potential to create complete seclusion and privacy for our guests.
We remembered a cute bay where a local Taxi Driver, Tau, took us swimming. On the most perfect day, we drove down into the bay, the sun was glistening on the lagoon, the view was mesmerizing and we knew instantly that this was our piece of paradise, aptly named Paradise Cove.
In 2005, we left Australia and began the adventure of a lifetime. Chris an Australian Master Builder of 40 years began building Seabreeze. What a journey. With only local labour available, Chris shared his expertise and turned bush carpenters into skilled tradesmen.
On 17 November 2007 Seabreeze was officially opened By Tuilaepa Lupesoliai Sailele Malielegaoi the Prime Minister of Samoa.
Over the next two years we focused on providing real Samoan hospitality, outstanding food and an ability to make many dreams come true. As valued guests became friends, our commitment rated us number one in Trip Advisor and saw many returning guests,
On the 29th September 2009 the Tsunami struck and Seabreeze was destroyed. It took only a few days to decide that our 29 staff needed us as much as we needed them. Our resort supported several large families and we were not about to fail them.
The next 22 months was the hardest of our lives. Project managed by Chris and with the help of a visionary architect from New Zealand, the mission started to restore our beloved Seabreeze.
Waiters became Laborer's, chefs cooked for up to 50 construction workers with only a bush kitchen and Seabreeze was like a small village, thriving, vibrant and full of life. Each night as darkness fell, the sounds of harmonised voices filled the air, reminding us this was truly paradise.
Seabreeze re-opened to guests on 17 July 2011 and was officially re-opened by a jovial Prime Minister on 3 December 2011.
We wish also to acknowledge the government of New Zealand for their ongoing support and assistance and we will never forget the determination of those who assisted in the rebuild from our loyal staff to contractors who never faltered despite difficult conditions. Fa'afetai!
Seabreeze is now the ultimate in boutique luxury. It may look more luxurious but we still incorporate the same values, attention to detail and commitment to our guests needs that we become renowned for. Today we look forward to sharing our vision, dream and journey in the next chapter of the Seabreeze Experience.
Our Motto was never truer, "Fortune favours the BRAVE!!"
– Wendy and Chris Booth